It's tempting to want to call Jomo Tariku an up-and-comer in the home decór space. Born in Kenya to Ethiopian parents, and now based in Virginia, the industrial designer has been a darling of shelter magazines and newspapers over the past two years. His work has been celebrated in such publications as Architectural Digest, dwell, and The New York Times. But the 51-year-old father of two has been scratching at the industry's door for nearly a quarter of a century. His same African-inspired modern furniture that was ignored at trade shows and passed over by creative directors is now sought after by gallery owners and museum curators.
"It's been a slow build, that's for sure," says Tariku. "I'd be lying if I didn't say there were times when I thought it just wasn't going to happen." In the midst of the 2008 recession, Tariku and his partner decided to shutter their studio to pursue more steady income. He began working as a data scientist for the World Bank in Washington DC, a job that he still keeps today.
In 2017, Tariku launched Jomo Furniture to showcase his latest line of sculptural chairs and stools, and the following year, along with a handful of independent artists and designers, he helped start the Black Artists + Designers Guild, an organization that advocates for more inclusivity in the design industry. One of the guild's central missions: mentor the next generation of Black artists, makers, and designers — tomorrow's up-and-comers.
We talked to Tariku about his career and the challenges of finding a voice in an industry that doesn't always recognize you.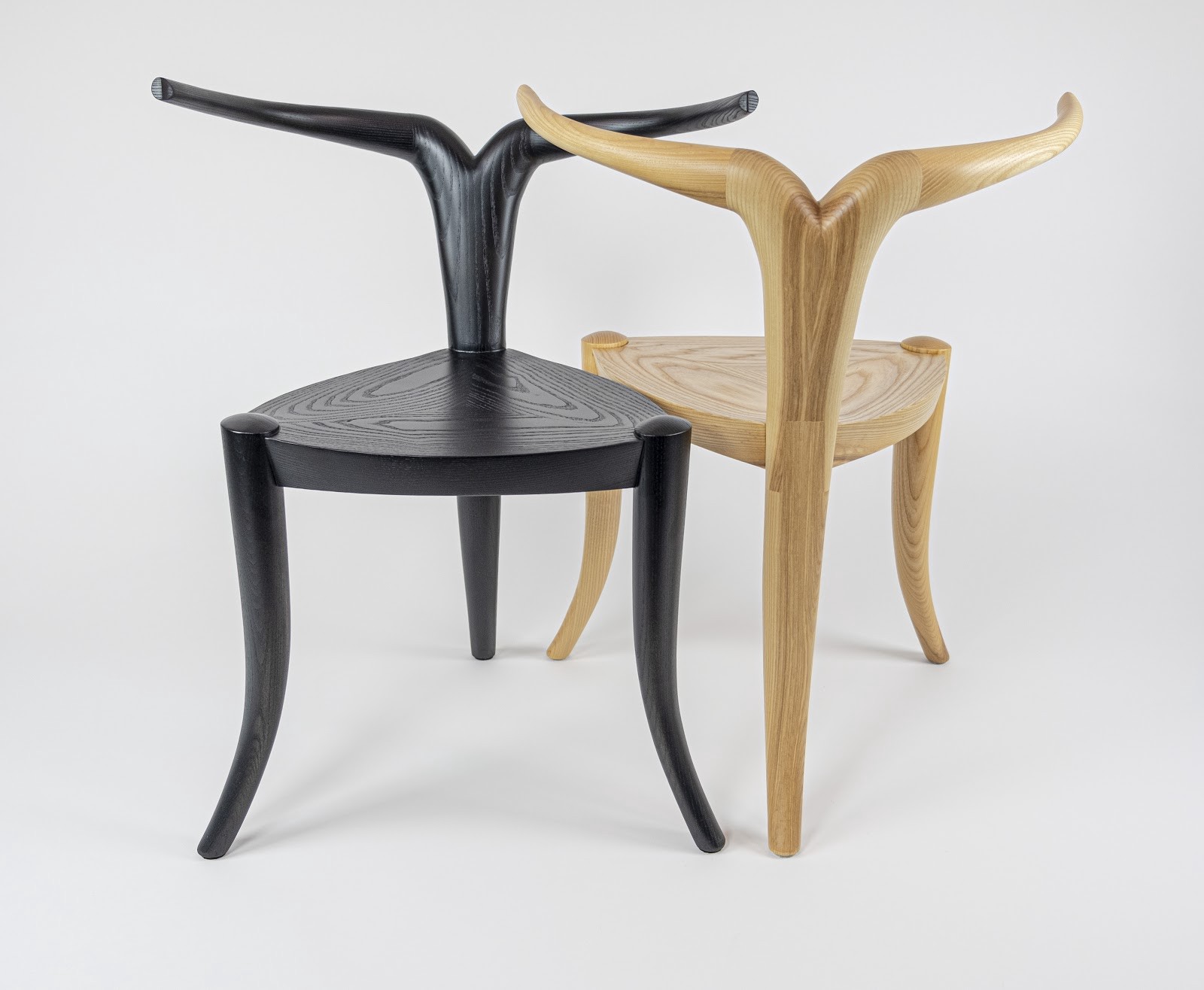 When did you know that you had an interest in design?
As a young boy, I was always drawing. Sometimes I wasn't even conscious that I was doing it. I'd be daydreaming in class and the next thing I knew my history book would be covered in sketches. My father traveled a lot for work, and he'd bring back artifacts and decorative pieces from all over the world: copper trays from Zambia, tusks from the Congo. I spent many hours sketching the objects in my home from different angles. They left a strong impression on me. Did I know there was something called design that you could make a living at? No, I certainly couldn't recognize that at the time.
When did you realize that this could be a career?
(Laughing) I think I'm still trying to realize that! When I came to the United States to attend the University of Kansas in the mid-1980s, my plan was to study computers. Everyone was telling me that that's where the money was. I took an art class as an elective. The teacher saw that I had talent and encouraged me to switch majors. Later, during the summer session, I walked around the art department looking for someone to talk to. The only door open was the industrial design professor's. We chatted about my interests and he suggested I look into industrial design. I didn't even know what that meant at the time, but he explained it to me, and it immediately clicked. I'd always been an object-oriented person; this was something I could wrap my head around.
Why did you choose to focus on modern African furniture?
Back then there was barely anything like that on the market. There was only the Eurocentric thinking of what African furniture was, be it an animal print on a couch or a tribal mask. Things tourists buy when they go to Africa. But I wanted to do something different, informed by my heritage and the craftspeople of Africa but using new materials and new technologies. My college thesis was to design a line of modern African furniture, and really I've been pursuing that ever since.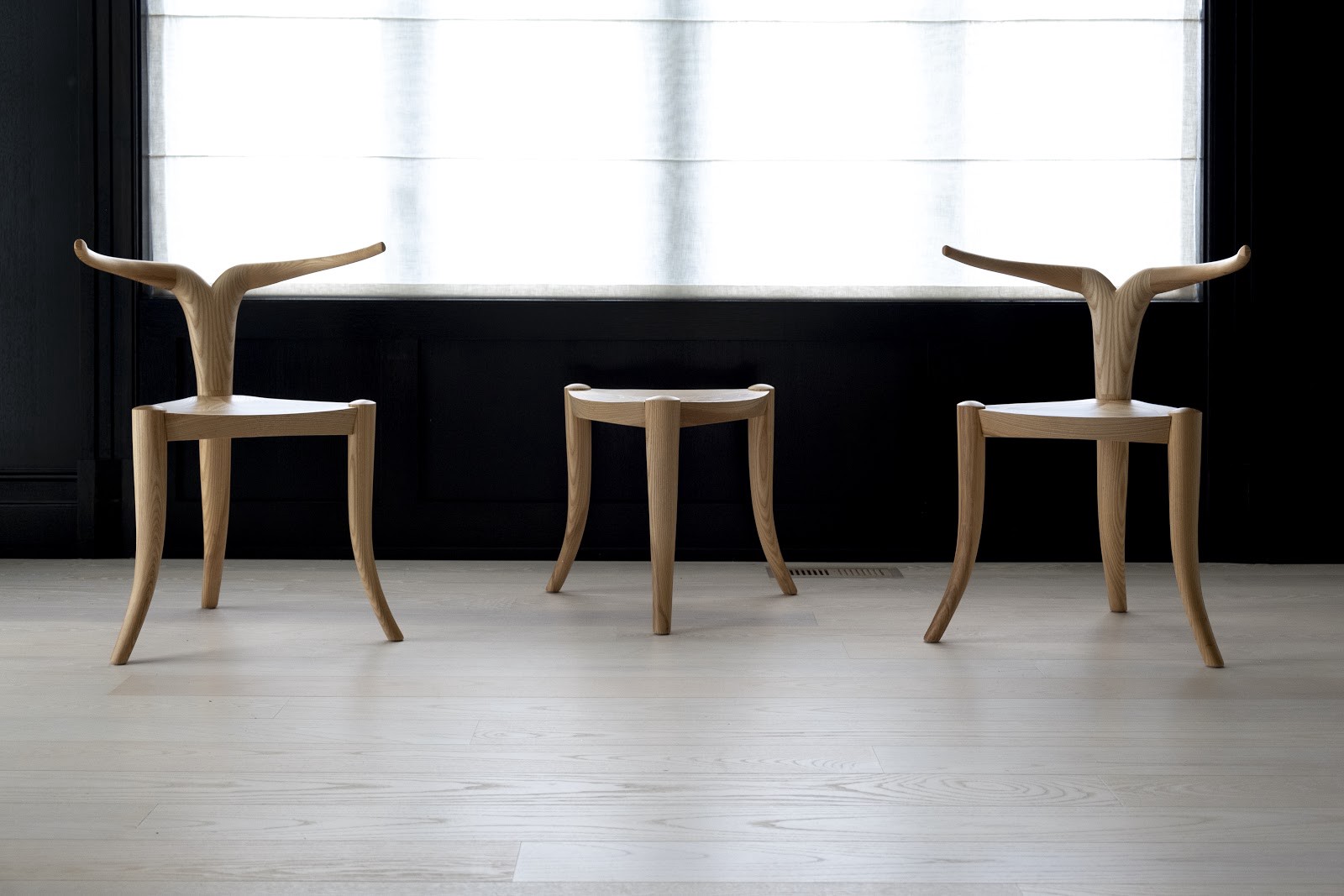 Your signature piece is a three-legged chair. Talk about the significance of that design and what it means to you.
The three-legged stool is common in Ethiopia and other sub-Saharan African countries. Growing up, we had about five of them in my house, so it was natural that I started here; it's still where I go when I begin sketching a new design. Stools and chairs are incredibly challenging because of the range of people they have to serve in terms of ergonomics. And stability is always an issue. I came up with the idea of the Nyala chair after seeing the horns of the nyala, which is a kind of mountain antelope. The MeQuamya chair is based on the traditional prayer staff used in the Ethiopian Orthodox church. These designs all go back to my culture. I can't untangle myself from it. It's what inspires me over and over again. For me, the question is, How can I synthesize these things? What story can I tell here that hasn't been told before?
Walk me through your process for creating a chair.
All ideas start from rudimentary sketches that I enhance with multiple versions of refinement. Once I get the sketch to a place I like, I do a digital 3D model to see if it translates into something that's visually well-balanced. From there I can assess how I might prototype it. I like to do the first prototype myself, but sometimes I'm limited, especially if the chair has many complex parts and I don't have the tools to produce it. If that's the case, I take the design to my builder, a man named David Bonhoff, who's just brilliant, and we'll work on a few iterations before moving to the final piece.
What are some of the hurdles you face as a Black furniture designer?
Visibility is the big one. I've been attending trade shows for a long time and it's not only that there aren't any Black designers, but who I am as an artist isn't expressed in anything I see there. An Italian or Scandinavian designer will somehow weave their culture and heritage into their work. Yes, it still has to be ergonomically designed, but in the end you can look at a piece and say, that's Italian or that's Scandinavian. But if you go to some of the largest furniture design events in the world, it's rare to see anything informed by a Black culture. It's like we're invisible.
This also has an effect on Black consumers. Design can be very personal for people. When you decorate your home you're making a statement about who you are. There's some connection between you and the things you put around you. If you're a Black person it's much harder to make that connection because we don't see our culture represented. My goal has always been to create objects that have depth and meaning to me as a designer but also, hopefully, to the person who buys it, places it in their home, and maybe some day passes it down to their children.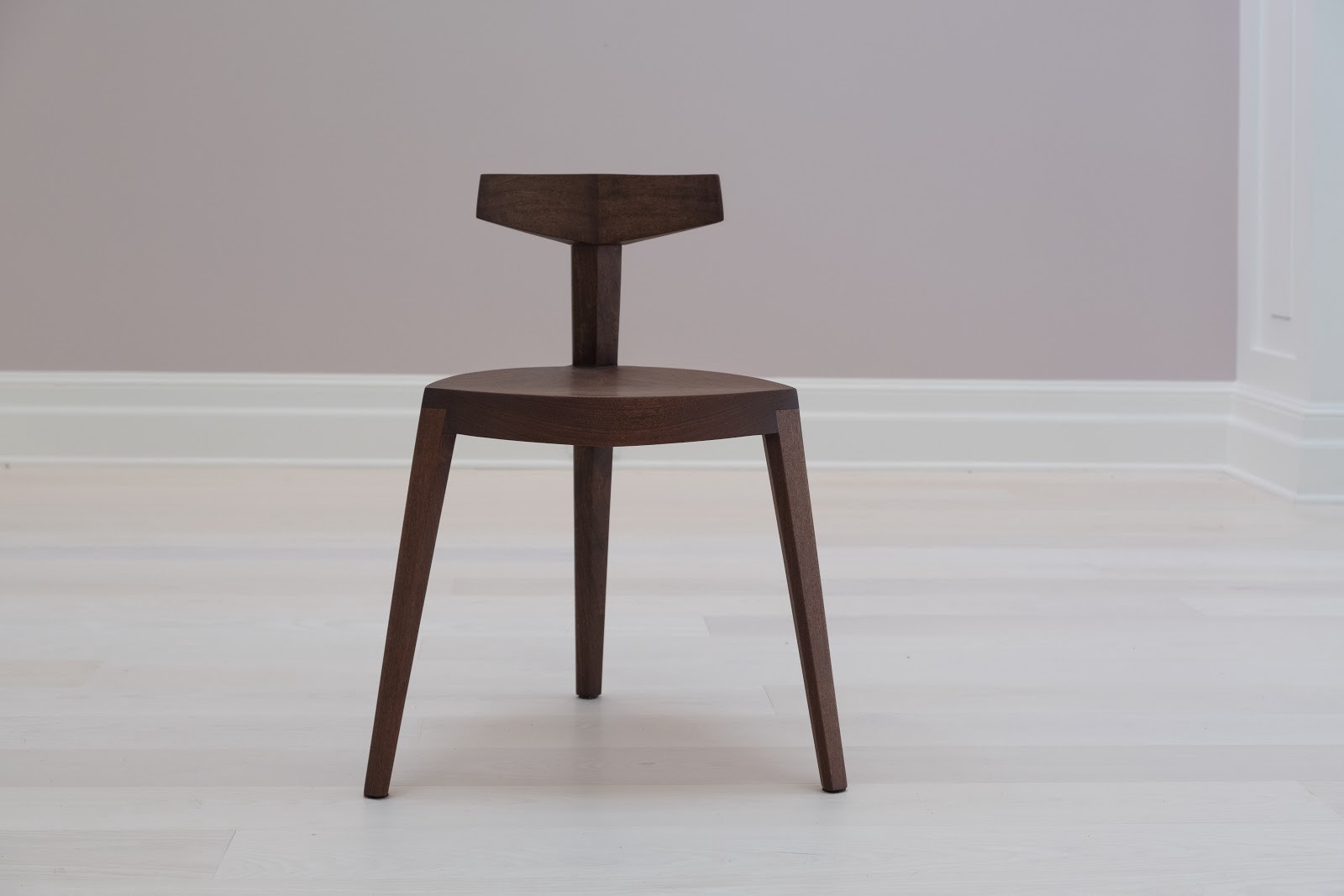 You're the first person I know of to try and quantify the underrepresentation of Black designers in the industry. What prompted you to do that?
I spend my days surrounded by statisticians, so the impulse to quantify is always strong in me. Every once in a while I'll hear someone deny that Black people are underrepresented in the industry. Or they'll say, Well, that's a Black designer or Black artist's perspective. So I finally decided to poke my head into it a bit and looked at the top major design companies — the trendsetters that everyone emulates — to see how many Black designers they actually employed. It wasn't like I could get their internal databases, so I had to get creative and scrape the data from their webpages. Now, I admit, it wasn't the most scientific approach, but even if you apply a one- or two-percent margin of error, the numbers are still really, really bad. It's like we don't exist. I didn't do anything with the data until I got invited to Princeton University to talk about Black design and I presented my findings. Then, when the Black Lives Matter movement took off and people started demanding answers, my study got picked up by media outlets, including The New York Times.
Has the Black Artists + Designers Guild helped open any doors?
We're only two years old but already I can say that it's given me the biggest bump in my career. I'm collaborating with designers from Africa, Europe, the Caribbean, the United States, Canada. I get invited to be a panelist at design events and give speeches — things that simply did not happen before. I'm also being exposed to the younger generation of designers. It's important for young Black designers to know that they have a voice in this industry. When you're starting out, the obstacles can be so huge that it's easy to give up. The guild helps you get more access to the industry so that your work can be seen. We just want to be able to get our foot in the door.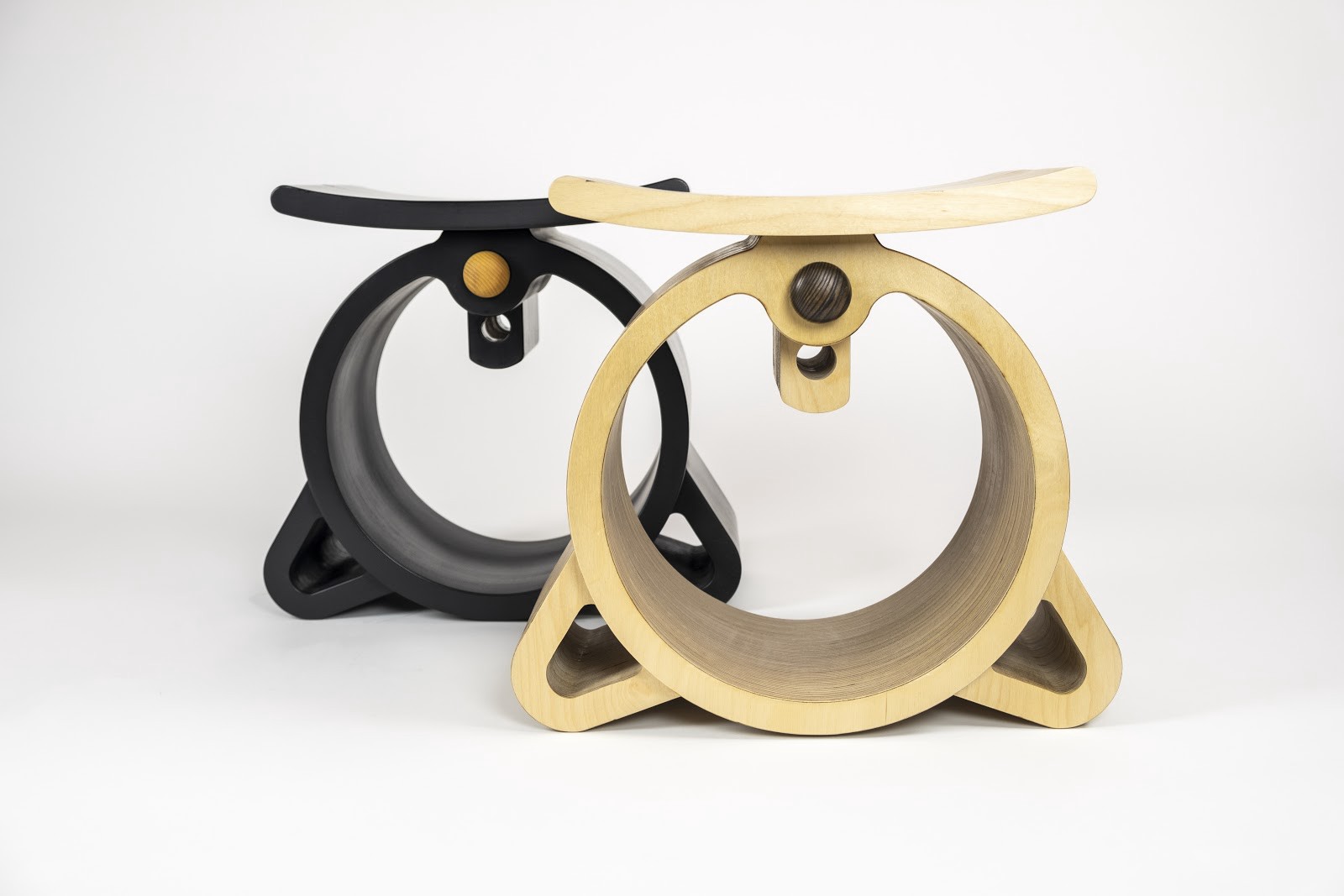 You have two jobs and a family. How do you manage your time?
(Laughs) Poorly! I'll admit, I'm not great at it. There are times when I feel like I'm sinking but somehow I always make it work. The key, as you get older, is not to waste time because there's a lot less of it. Before COVID-19, I did most of my sketches on the metro on the way to my day job at 5:30 am. Everywhere I go, I take my sketch pad. If there's a tiny window to scribble, I'm sketching. So I rarely watch TV or engage in silly extracurricular activities unless they involve spending time with my family. I'm totally committed to giving everything to this pursuit; you have to if you want any chance of being successful. I also have a very bad habit of only sleeping 5 hours a day, which I wouldn't recommend because it will result in burnout.
What advice would you give aspiring designers?
Don't waste time when you're young. Those are valuable years for creative people. I'm not saying you shouldn't enjoy life, but stop wasting time on silly stuff because you'll regret it. And if you're just starting out, find someplace that will let you be an apprentice. That is so valuable! I didn't do that and I truly believe it affected my career. I had to learn everything from scratch. If you're serious and you really want this to be a part of your life, find a way to surround yourself with likeminded people. Get into a company. Go in and learn the system. And while you're at it, learn to tamp down your ego too. Because when you're young you think you're the shit, but trust me, you're not.
What's next for you?
I've got some big things on the horizon, including a major museum installation, which I can't talk about because it hasn't been announced. But I'm hoping that that will give me the big boost I need. It's been a long time coming, but I'm going to see this thing through.