By day, Rachel Smith is a senior UX designer at Nordstrom Rack. The rest of the time, the LA native works on a range of creative projects, both within her local community and globally.
In March, as the daily COVID-19 case count rose, hand sanitizer sold out across the country, and hospitals ran out of PPE, Smith wanted to help. "I felt very overwhelmed. I just felt this sense of dread," she says. But then she realized maybe she could help. "I thought to myself, I'm a designer. What if there's something I can do?"
So she made a Slack group and a website, calling it Design to Combat COVID-19, and tweeted to her design community about getting involved. Overnight, 100 people joined; within a week, that number grew to 1,000. Nine months later, her virtual community of creatives included over 2,200 people. From their homes in six continents, the designers come together to volunteer their skills and time to support medical professionals, service workers, and others affected by the pandemic.
Tell me about your history as a creative. How did you decide to pursue design professionally?
It wasn't always an easy path for me to get to where I am today. I am the first person in my family to go to college.I grew up in a lower-middle-class working neighborhood where you're lucky if you get a job, and that's a job that you have forever. When I thought about becoming a creative and an art major, I was like, I need to make money, and no one can make a living that way. I wish I knew then what I know now: At least in the creative space, there are so many different ways to make a living that are very unconventional.
But I realized that my heart did lie in the creative space, so I gave it a shot.
How did you transition from graphic design to UX design?
I taught myself HTML and CSS, because as much as I love graphic design, I didn't want to be in the production world forever. Then Home Depot hired me as a web designer. I was super grateful for the job, but I would show up to the workplace, and I'd be like, what are people doing over there? They're talking about users and whiteboarding, and they're not staying up until midnight pushing promotions. That was the first time I'd ever been introduced to UX design. I was really lucky to be in an environment where folks took me under their wing. Then I was hired at Nordstrom, where as a senior UX designer, I work on all aspects of the site, from iOS to Android to desktop.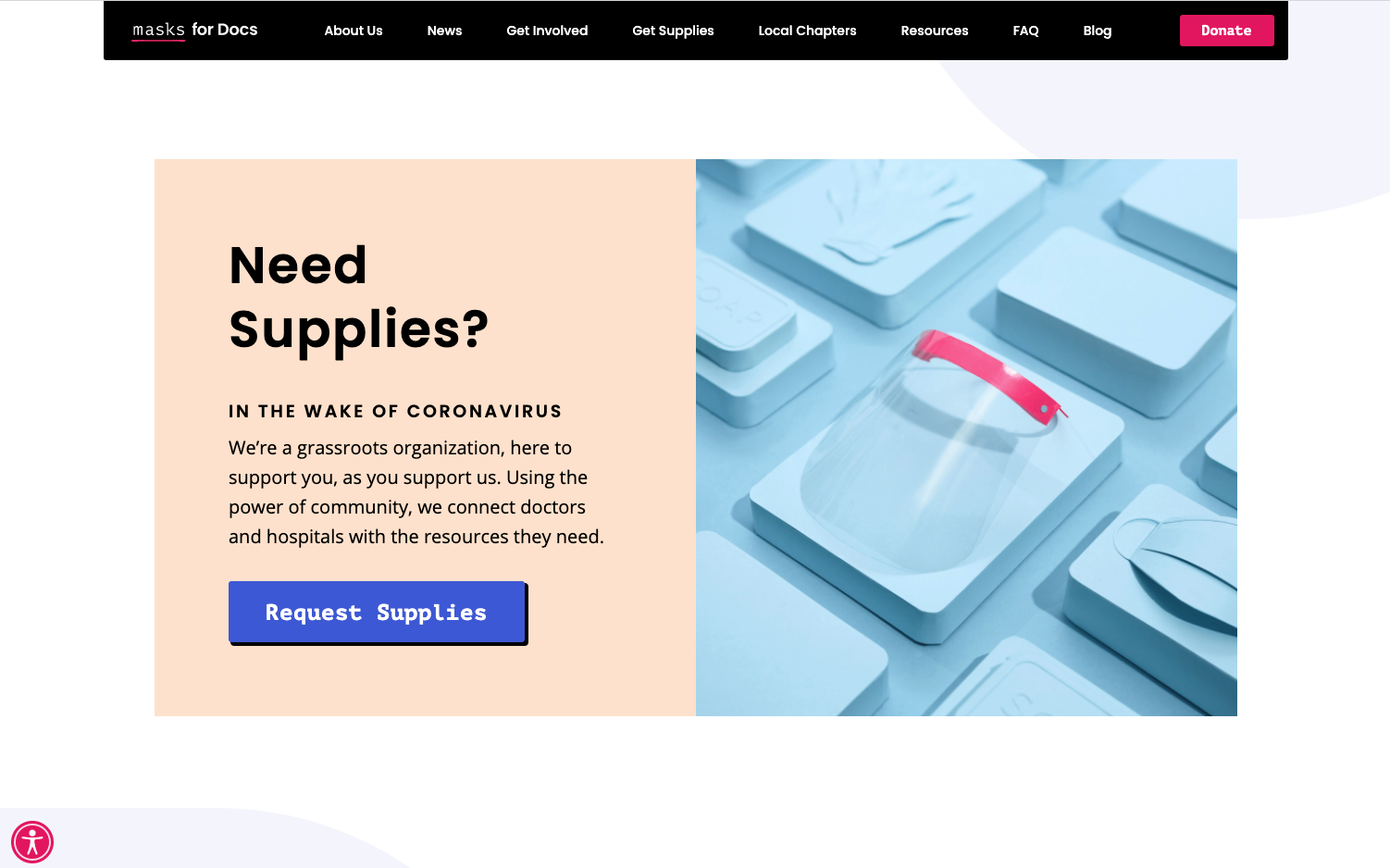 How did you find your way from corporate UX design to working on your own projects?
Early this year, I was going through a lot of personal reflection about what I wanted out of my work life and my personal life. I picked up a book called Designing Your Life, written by Stanford professors about how to apply design thinking to what you want in your life. I read the book, and I thought, these are the things I want out of work: I want to make impact. I want to bring joy into people's lives. I want to feel like I'm part of a team. These are the things I want out of my personal life: I want to feel fulfilled. I want to make impact. So I thought, okay, how can I bring these things to fruition?
Then COVID hit, and I started Design to Combat COVID-19. I made a site on Squarespace, created a Slack group, and tweeted to folks, "Hey, I'm starting this thing. If anyone wants to join, we're going to try to brainstorm ideas of how we can help."
That's a good lesson for people who want to figure out how to make an impact using their professional skills: Just go do it.
Yeah, 100 percent. To add to that, I like to plan things out, but I think there's a benefit to working and designing with ambiguity as well. Whatever I imagined at the beginning of the pandemic is definitely different than how it is now. At the beginning, we were really project-oriented, and focused on output. Now, we're more input-focused — let's take care of our community and have the space for folks to talk.
When you're building something from scratch, it's really important to remember that you can't plan and account for everything. If you try to make things too rigid, it's not going to work, especially when it's growing so quickly. That was a lesson for me.
Tell me about one of the projects from the early days of Design to Combat COVID-19.
Around day three of the organization, Chad Loder, the CEO of Habitu8, had a friend in Italy who was a doctor, and he brought the shortage of masks and other personal protective equipment to our attention. We started talking about how we could solve the problem and ended up creating a splash page for donating protective equipment. Everyone who landed there would put what they had to offer on a Google sheet. It grew so quickly, though, that we had to find a new way to manage the donations. So we started to figure out how folks could lead chapters in their local communities and distribute gear to their local medical care workers. Now when you go to offer up protective equipment on our site, you're led to your local folks. It became this wonderful user experience problem we had to solve for.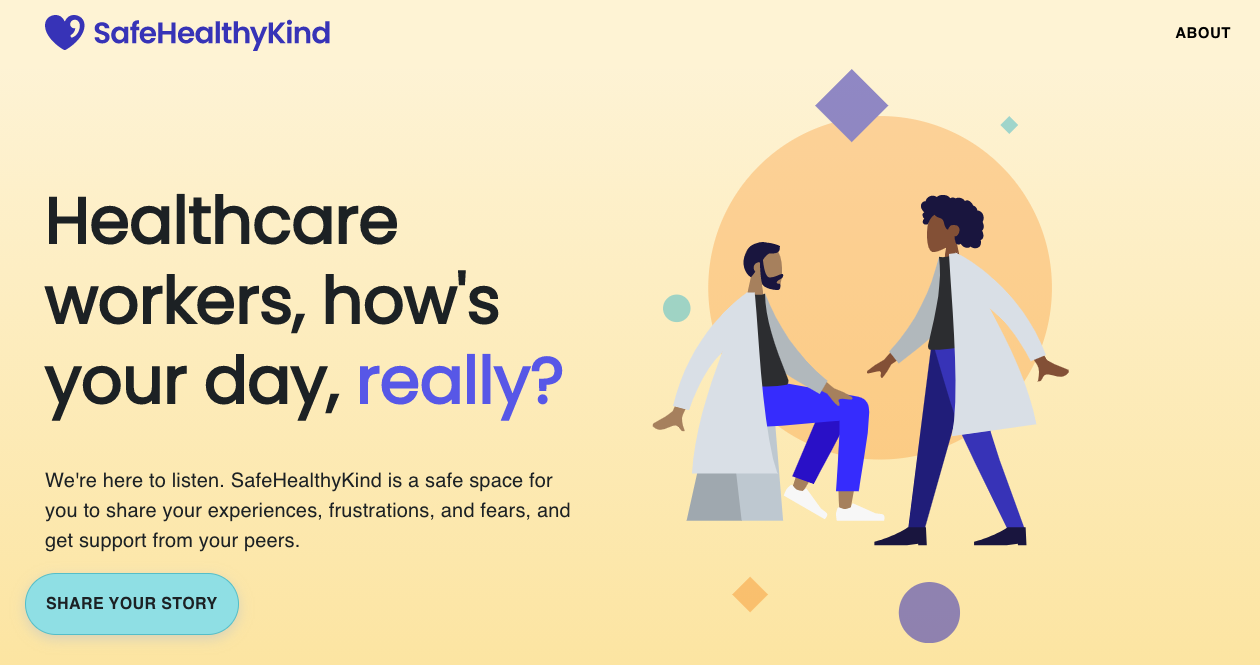 Tell me about a project that Design to Combat COVID-19 is working on now.
We've had a few people working on a platform called SafeHealthyKind. It's a platform for healthcare workers to share difficult scenarios with other healthcare workers. It's basically a talk forum — a free area for them to openly talk about having a hard day in the hospital or an impactful interaction with a patient.
You mentioned you learned the importance of flexibility in leading Design to Combat COVID-19. What else did you learn from the experience?
I'm always trying to solve problems. This experience has taught me to make sure that I'm asking the right question, rather than providing the solution quickly. There are broken systems, and as designers, we can help solve that.
The biggest thing I've learned is not to ask permission. Self-reflect, and ask other folks for feedback, but then go out and do it. If you want to build something from scratch, just do it.