User research has become an expected best practice for many companies today to surface user needs and develop usable products. Historically, product managers or UX generalists often did the research, rather than dedicated UX researchers. But that may be changing. 
In the last decade, companies have shown growing interest in hiring UX research specialists. In 2013, it was relatively rare for US employers to hire for such a role or function — for every UX research job listed on Indeed in 2013, there were more than ten UX designer jobs. Today, US employers post one UX research job per three UX design jobs they list. 
While it's hard to predict the future, the trend shows UX research becoming increasingly established.
I'm a mixed methods UX research manager at Indeed, and I've taken a look at 10 years' worth of Indeed data in the US with normalized titles from job postings. The data are clear: The proportion of UX research jobs compared to UX design jobs continues to grow.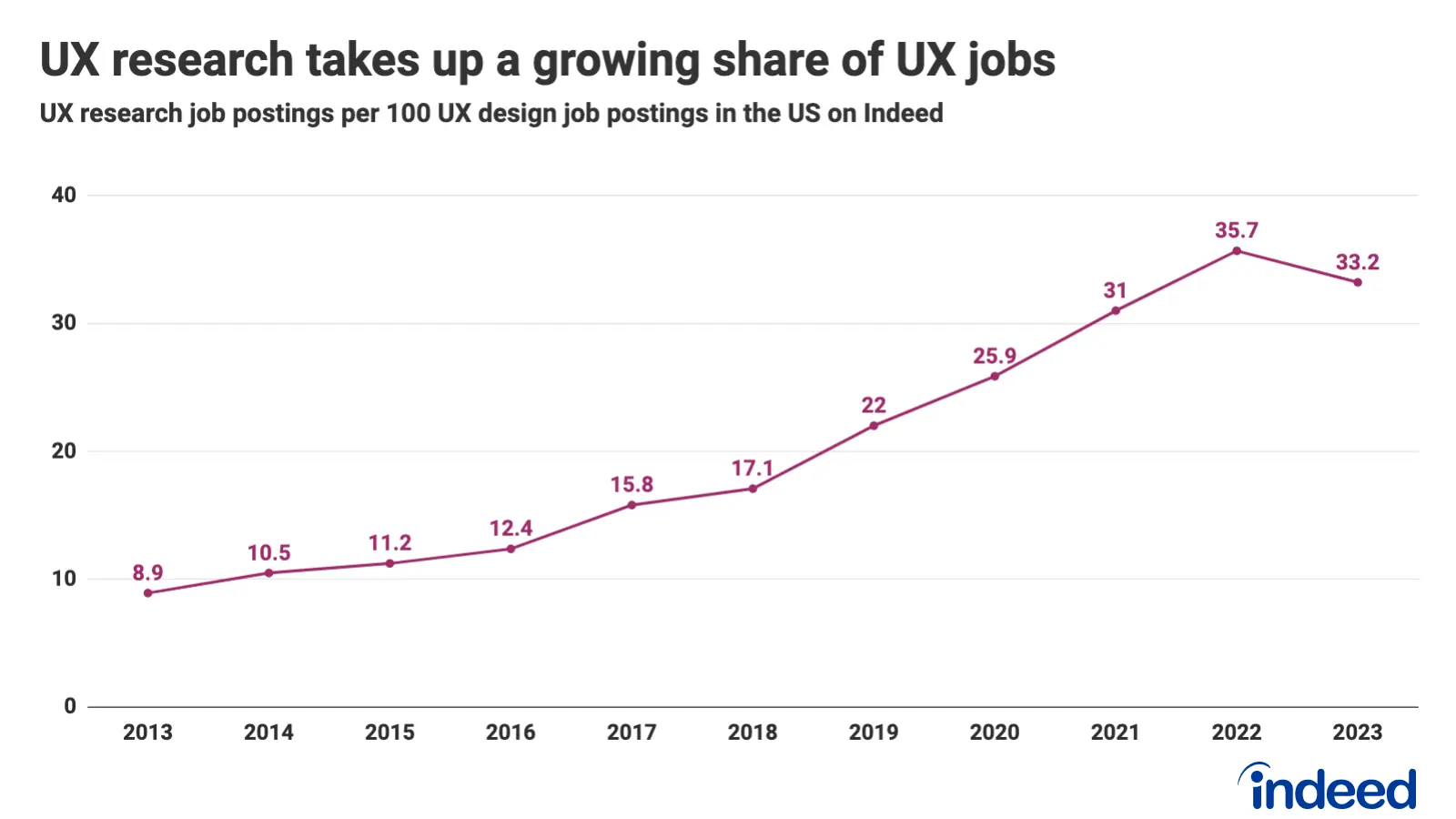 The recent drop in open roles is the only break in the trend. And yet, less than a year's worth of research representation gains within UX openings have been erased during the tech market backslide. Data from the first half of 2023 show that UX research openings have only pulled back a fraction more than UX design openings have.
The past three years were an exceptional time. The number of all UX roles grew wildly after the start of the COVID-19 pandemic. Then the job market cooled; recent Indeed data show UX job listings in the US have plunged in the past year. Thus far, it's still likely the full-year total of UX research roles in 2023 will be higher than in the year before the pandemic.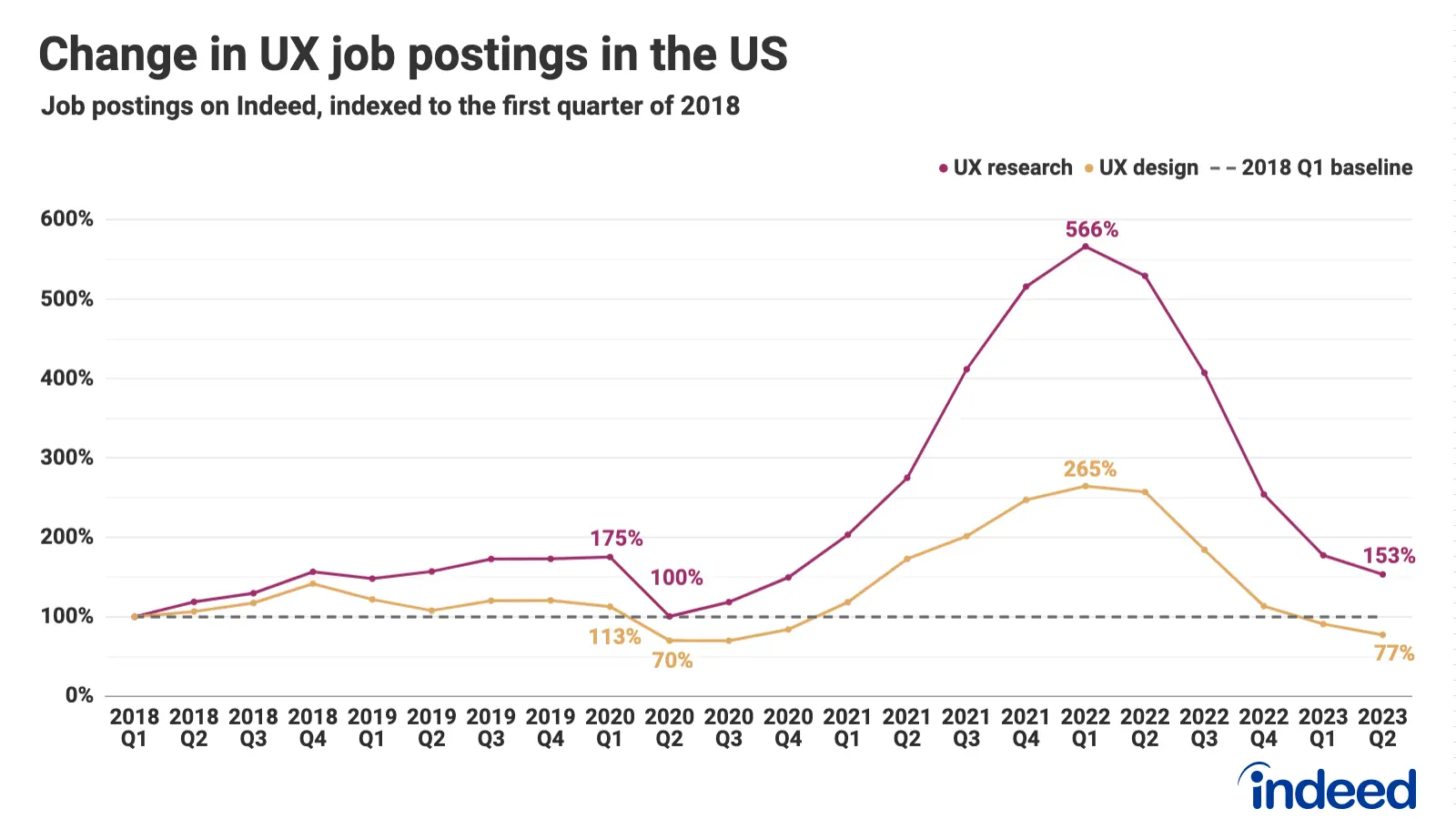 That the UX research discipline is holding steady feels counterintuitive; widespread tech layoffs have put many UX professionals on the hunt for a new job, contributing to steeper competition for open roles. In the near term, it's possible the UX research discipline continues to grow proportionally but that there isn't an open role for everyone who wants one.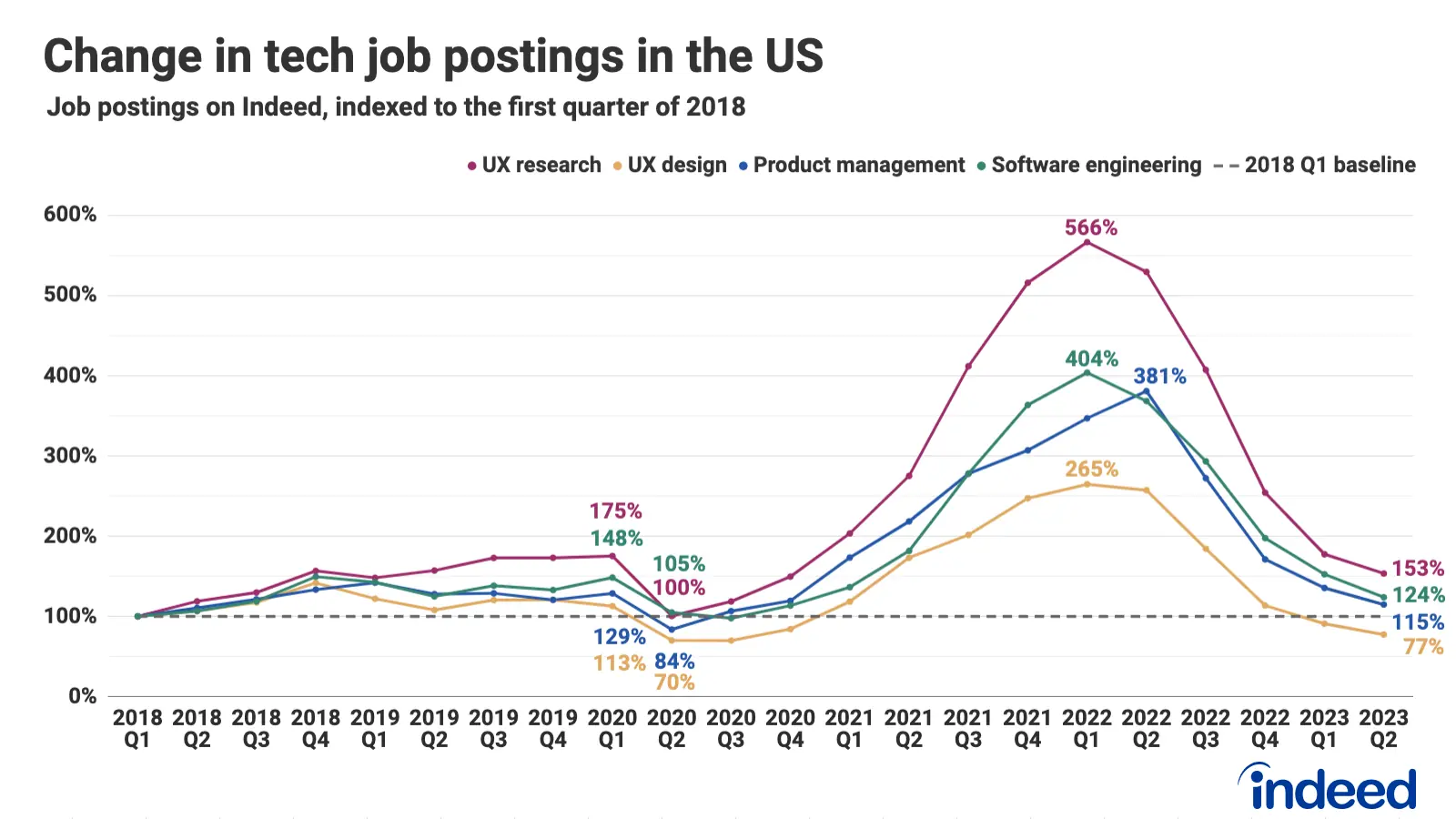 The erasure of some jobs due to layoffs has not led to an erasure of the UX research discipline. In fact, the data show that the gains made in recent years outpace other tech disciplines. Companies still need deep knowledge of user needs to build sticky products and differentiate themselves. That's where UX researchers come in. We help connect the dots, identifying tactical user interface improvements and strategic business opportunities to better serve users.
UX research may have once been a niche role in tech. But the last decade has seen UX research surge and consequently shift the proportion of researchers compared to other roles at companies. Despite the tech winter the industry is facing — rife with layoffs and hiring freezes — the data show the UX research discipline is here to stay.