For many people, a brand is just a trendy logo. But for members of a brand systems team, brand design is much more. It's an uncertain path to define a purpose, uncover the right elements, and refine how those represent the values of an organization. Successful brand design determines a brand's meaning, organizes and clarifies its properties, and outlines how it expresses itself. And for Indeed's first Brand Systems team, leading the vision for a global company's identity required the right people at the right time.
I joined Indeed at the beginning of a transitional period. Our company was expanding, with all product groups focused on designing innovations to help people get jobs. Through intentional growth, Indeed was earning its place as the world's leading jobs site. Still, we were missing something many competitors already had: a brand identity. This is the story of how we made one, and the team it took to lead the way there.
For a teaser of how things turned out, take a look at this video and the brand expressions pages of Indeed Design. To get the inside details, read on.
Indeed's leadership knew it was time to invest in shaping how people saw the company. Like many other businesses embarking on an effort this important, Indeed began by working with several external branding agencies to explore the potential of a new identity. Each of their proposals had compelling executions, but none captured a purpose that felt authentically like Indeed. Instead of looking externally for an identity, we looked inward. 
This meant a new plan that broke from the usual agency approach. We formed a dedicated in-house team to build bridges between brand, product, and marketing. Our mission: Define Indeed's core identity across business areas and modernize the company's design so that every impression would feel distinctive and memorable. 
We focused first on building a small, tight-knit team from different disciplines. By recruiting specialists across UX, product, design system, content strategy, and visual design teams, we drew on our own top talent. Each member shared a common passion for craftsmanship and quality. With that ethos, we established Brand Systems at Indeed.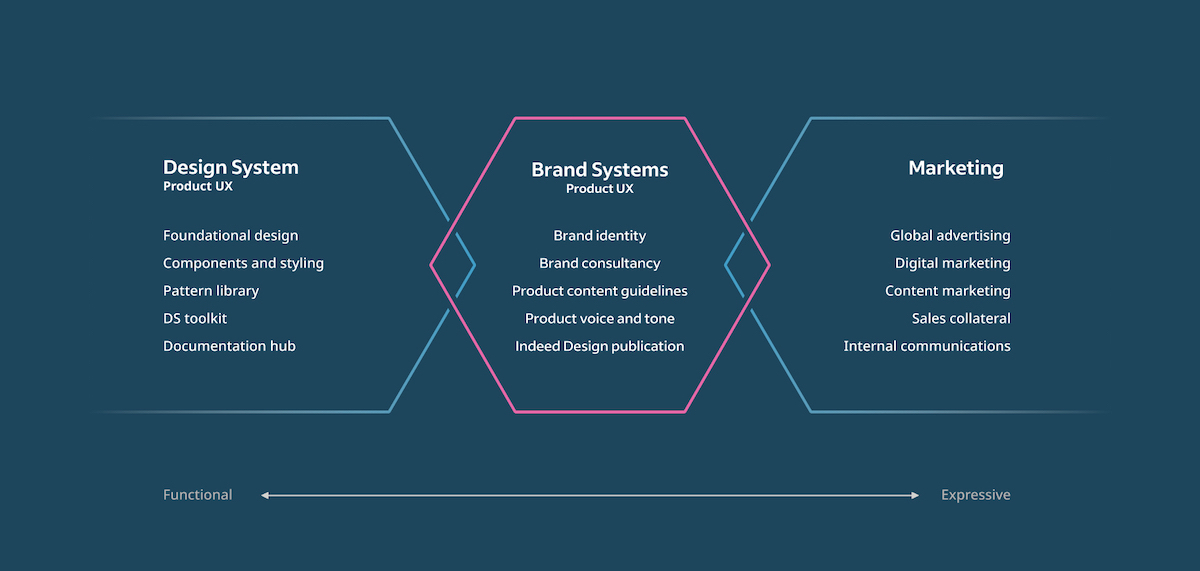 Defining an inclusive identity
Our team had a name and the support of our executive leadership. Now it was up to us to imagine a new way of designing seamless and memorable product experiences. At the start, we struggled to find well-tested industry information on building a brand system. There aren't many guides to how companies successfully adopt a meaningful identity. Articles on how systems teams function at scale aren't common, either. Here's the approach we developed for our work.
Brand with a capital B is an intangible concept that frames the way people perceive a product, service, or industry—even a personality. Systems are a set of interconnecting elements (in our case, expressions) that work together as a whole. Brand systems are processes and frameworks that use narrative and theme to transform individual values into measurable elements. An identity provides the tools to make an impression, but the brand systems give each touchpoint meaning and purpose at scale. 
Building this kind of brand identity is a difficult all-hands exercise. Previous attempts with external partners excluded some voices. Our new effort needed to welcome as many perspectives as possible. To follow and adopt a trendy proposal from an agency would have been the easy, safe bet. New start-ups commonly adopt a familiar clean visual design with coordinating patterns that's recognizable but formulaic. Instead, Indeed chose to rebuild with care, one milestone at a time, to support the company's plan for growth. 
First, we had to prove Brand System's value and earn leadership's trust. By staying accountable for our ideas, we ensured any proposals could be validated in the live product by users. When it came to unifying creative expressions across product and marketing experiences, finding what worked and what didn't was a challenge, especially when we uncovered conflicting visions. To resolve tensions, we involved more people and empowered teams to share ideas and build the identity with us. With that uniquely cross-disciplinary lens, we broke down our solutions into single expressions and got to work.
–
Is this article helpful? Subscribe to get occasional emails with new stories like it.
–
Building from a solid foundation
Our process began with an audit. To design a successful brand identity, designers must capture their company's goals and reflect them in the aesthetics of their UI and communications. We conducted two integral studies: brand equity research and a cultural semiotic study. These helped us learn how customers across the globe perceived Indeed's visual elements. Internally, we also began compiling examples of existing design elements to highlight areas of opportunity for the company's upcoming change. We found many beautifully crafted patterns and designs, but they were visually inconsistent.
Indeed needed a new face to represent the company's dynamic values. The journey to hiring or getting hired is filled with ups and downs, and our themes had to match those experiences. Helping all people get jobs requires empathy and collaboration. Our Brand Systems team set out to translate this mission into tangible artifacts for a visual identity.
We explored the accessibility of our color palette. We crafted a custom typeface. We created an illustration style inclusive of people with different backgrounds and abilities. We tuned the voice of our product. 
Our core brand expressions started as tonal collages, moodboards, and product mockups. We used these to provoke discussion among Indeed's stakeholders, and gain candid and clear feedback. Our team executed with precision, working as if our designs were shipping the next day. These high-fidelity examples stoked passionate debate among the company's leaders. We gathered deep insights about the relationship between ambition and risk, uncovered the limits of nostalgia, focused on the value of consumer sentiment, and galvanized around our commitment to accessibility. 
Shaping our future story
After months of surveys, visual experimentation, alignment workshops, and crash testing, our vision for the new brand identity began taking shape. We defined a tonal range for the identity and a plan for how it would influence the business and our customers. 
Three key priorities informed our new direction:
Clarify who Indeed is and how the company shows up in the lives of job seekers and employers

Honor our origin and inspire our future

Distinguish ourselves in an iconic and powerful way
Refining the expressions was our next phase. Through product partnerships and quantitative research, we made sure each change showed no harm to our mission. Users experienced only limited pieces of the new brand, and all proposals remained confidential and focused. We worked upward from the foundational components in close collaboration with our partners, the Design System team, validating our design applications through user testing in targeted segments and then contributing them to the design system.
Counting every detail to earn success
Carefully and deliberately—that's how our team partnered with product designers and product teams. Layering brand design initiatives into product roadmaps can confuse priorities—especially when the identity isn't final. Product teams generally focus on business health and feature upgrades, not how users feel about the final experience. 
At Indeed, showing positive outcomes for users is the top priority, and it's mostly quantifiable. Using interactive query language, managers and engineers can see with fine detail how changes to the experience influence quarterly goals. To create more visibility, we hosted regular one-on-one stakeholder check-ins and team syncs to share new progress and align on next steps. Every detail counted: removing old brand features, changing the font size, and swapping button colors represented major departures from Indeed's baseline. Each change required intentionality and confidence in the broader strategy, and we needed everyone's input to find measurable success.
By integrating systems teams into the product organization, we rapidly adopted consistent patterns and set the foundation for high-velocity updates. As the data poured in, the product surfaces started to evolve. When conflicts appeared—and they did—our team re-engaged, and a tried-and-true service model kicked in: audit, explore, apply, and test. Indeed reached the confidence level we outlined in our initial alignment sessions and released the full brand identity just in time for the Super Bowl in February 2021.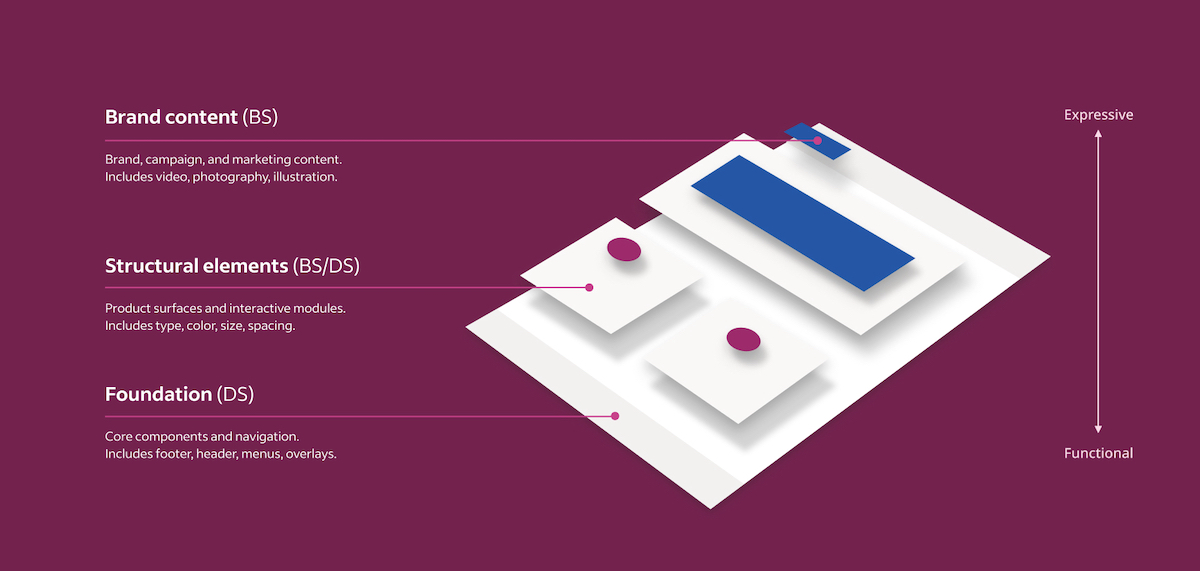 Collaborating to foster trust at all levels
Our brand systems connect to the product through Indeed's design system. At Indeed, we share a common goal: to build trust through consistency. Consistency is simple to visualize, and its impact on business is easy to measure. Indeed continues elevating its brand equity and value as we gain user trust. However, consistency is not memorable, and consistency alone is not enough to showcase our values through aesthetics. In the middle of adopting design system libraries, Brand Systems also identified which areas of the product experience had an outsized impact on users' perceptions. 
These transactional points in the customer journey spark emotion in users. They're prime opportunities to build brand recognition and gain feedback after an interaction. We called them Indeed Moments, and focused our full team's visual and content expertise on distinguishing their aesthetics and giving them an empathetic voice and tone.
Design System and Brand Systems continue to support our new brand identity. In meaningful and measurable ways, the combined work of our teams ensures consistent presentation, fosters a sense of trust in the company, and creates a positive impression that Indeed's services are worth the time and money. 
A brand system designed to evolve
Looking back on three years of effort, we're encouraged by the simple but important strategy we used. Our brand found purpose in a mature identity that's accessible to all job seekers around the world. It's remarkable how careful and consistent validation testing through user research earned the trust of product leadership and gave us the confidence to change the face of our global product during a pandemic—even through remote work sessions and without our beautiful facilities. As all the pieces aligned, we recognized it was the right time for Indeed.
Brand Systems designed the identity, but we didn't do it alone. Building brand equity can only happen with the ideas and support of the entire company. As Indeed's product evolves to reflect its mission and values, our team will focus on quality and craft. We're committed to making each significant moment a memorable experience that fulfills our brand promise. We'll keep adapting, evolving in response to user insights, and coming up with new ways of expressing our brand because that's what good Brand Systems teams do.
To learn more about the team behind Indeed's brand system, our journey to building an adaptive brand, and our current work, listen to the Culture Matters podcast episode with Brand Systems' senior creative director, Dave Nguyen.