When smartphones first came out, an explosion of apps followed. Established storefronts, new online start-ups, and everyone in between raced to build their app to engage users and hold their attention.
For a time, it worked. But as the years have passed, users have grown tired of the novelty. The official app stores aren't as attractive. People tend to use a set number of apps and would prefer to keep it that way rather than scrolling through five pages before tapping the app they want.
As a solution, many companies have started to create products hosted on well-known apps and websites. Rather than building an individual app and attracting users there, companies like Indeed have started to expand their experience to popular third-party messaging apps.
In Japan, the messaging app LINE is on over 90% of smartphones, and users spend an average of 17.1 minutes a day using it. So Indeed knew its services could reach a huge audience with minimal cost by going to where the users already spend their time instead of asking them to download a dedicated app. The company's core service can live anywhere that makes them more accessible. There aren't any rules saying our products can only sit on a website or in-house app!
And thus, the idea of third-party app integration for Indeed was born. Here are some lessons we learned along the way.
What to expect when you integrate
Creating a presence on a third-party app is a bit like renting space in a shopping mall. There are limitations and rules for how you can display your product. And there are standards for how customers can interact with you. But you benefit from the natural foot traffic and a familiar interface.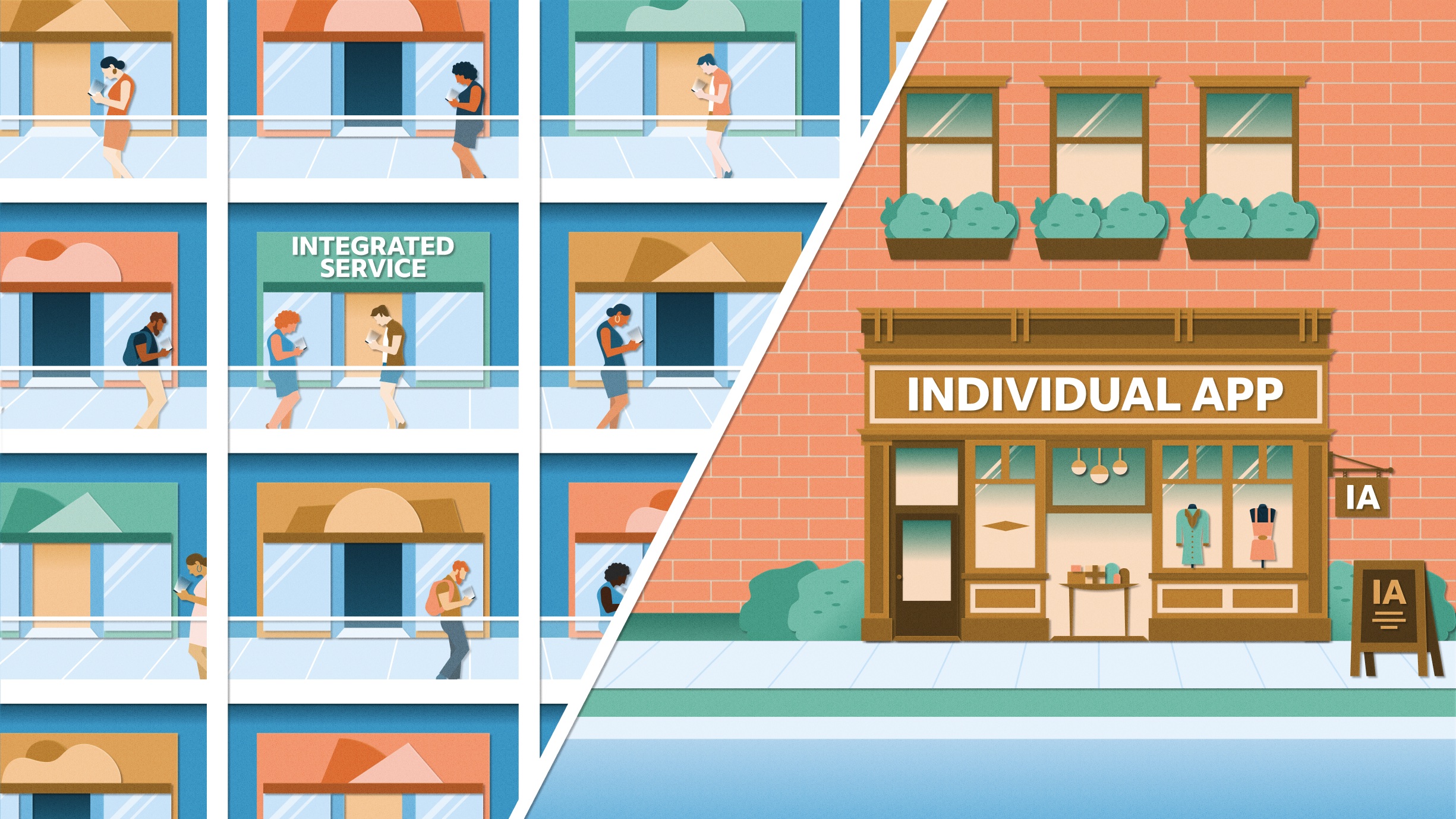 Of course, there are benefits to building your own space from scratch. You can design the layout the way you want and create custom interactions and features. But building a space far from the buzz of the mall comes with some challenges. You'll need to advertise the location, give customers a compelling reason to visit you, and teach them how to use your shop when they arrive.
Just like the options between where to open your store, the decision to build an individual app or integrate into third-party services raises some difficult choices.
What will serve our users best? How sustainable is such an investment into a third-party app integration?
These and other questions helped my team find an effective way to move forward. Remember, not every project will be perfect, but you'll always learn valuable lessons along the way. Choosing to integrate with an existing app or build your own comes with lots of important decisions to make. My team discovered some important roadblocks and boons during our work, and I want to share them with you.
You'll be designing for both passive and active users
Indeed's mission is to help all people get jobs, so our work seeks to help people in a wide range of job search stages. For a long time, our app mainly focused on people actively looking for jobs. But not everyone is actively looking. Some are waiting for the right opportunity, looking for career change options, or just being curious.
This is especially true in Japan, where part-time work is common and job searching is not done as actively compared to other markets.
To reach these more passive job seekers, Indeed initially expanded onto LINE, the most popular messaging app in Japan. The project was a massive success and we've had 10.8 million monthly users since 2018. And there was a second, unexpected benefit: The integration gave employers an easier way to communicate with potential hires. Positive feedback from larger employers in our Japanese market made it clear that corporate messaging apps needed a similar function. So naturally, we asked: Why stop at LINE? Further integrations reached even more passive users. Big success!
What we learned: Building an established app is great for active users, but allowing user feedback to shape the design of your third-party integration will help you reach even more passive ones.
Dedicated customization means higher engagement but more effort
We've found that users are more likely to engage with us if they don't need to install our app or visit our website. Following a social media account is easier for a user, and it's a simple step that doesn't take up mobile storage. In Japan, we found that user acquisition via messaging was three times lower than through SEM (Search Engine Marketing).
However, translating a search-based web experience to a conversational interface and making it feel personal and relatable opens a huge can of worms! It doesn't sound too hard, but it's important to consider some UX questions such as:
What do our voice and tone sound like on a third-party app?
What words do we use, and what would we never say?
Do we use exclamation marks or emojis?
Should we create a mascot as other accounts have?
I mention this as an important factor because it was one we underestimated. We've had many long conversations dedicated to creating complete guidelines. And after a few drafts, we're still working through this problem. Once we finalize them and can speak with the gift of hindsight, I might write another article about best practices.
What we learned: The bar of engagement is lower for users when you integrate as a third party, but moving isn't as easy as copy-pasting from your existing app. Conversational design is an opportunity to convey your brand personality and experience. You want the user to feel like they're talking with a good friend.
Study your host app in advance, and be prepared to adjust
Many platforms have robust third-party developer guidelines. It only took us four weeks to go from checking feasibility with developers to building a working prototype for LINE.
How'd we do it? Here are some of the methods and tools that helped us increase velocity. We:
Clearly specced out acceptance criteria and designs before we started development.
Ensured our design team was familiar with the design levers each of these messaging platforms provided. This ensured we didn't learn by surprise that our designs weren't feasible within the host platform.
Ensured our design team could come up with the JSON template required for these messages, as well as the designs.
Used existing messaging features such as geolocation, photos, and voice media.
This reduced development time and ensured that all the message designs were feasible and met expectations.
On the flip side, third-party apps limit the amount of analytics we can get from our users, compared to our own apps or web products. Without accurate data, how can we ensure we're creating optimal experiences for them and iterate quickly? Indeed is a data-driven company that relies on user feedback to better understand what users are searching for. Qualitative and quantitative research allows us to provide more relevant recommendations and content.
To get around these limitations, we used the limited data to form hypotheses of user pain points and used A/B testing to see if they were true.
In our experience, fewer people open emails nowadays. But they do obsessively check their messaging apps. That meant that they were 70% more likely to view a message from us and two times more likely to take action on it in LINE than they were in response to an email from us.
Emails flood users' inboxes every day, and users are unlikely to see every single one. With daily notifications on a messaging app, users check their devices more frequently—which means the notification is less likely to be buried.
Before you jump in, here's another aspect to consider: How do you make sure the experience is seamless? It's a lot easier to retain users when they're just a tap away from resuming their conversation or journey with us. If a user's chatting to us on LINE with their mobile phone, then visits our website on a desktop, they expect to continue the experience where they left off!
What we learned: Go to where your users are, but make sure that your service fits into the ecosystem it's joining.
–
Is this article helpful? Subscribe to get occasional emails with new stories like it.
–
Tips for kicking off your third-party product integration
Since my team learned so much from our experience, I put together a short list of tips. I'm hoping they'll help your team save time and effort.
Research where your users spend the majority of their time online
Like us, it could be a messaging platform, like Discord, WhatsApp, or Facebook, but it could also be something less expected, like a game.
Don't copy and paste the UX from your in-house web to a third-party platform
Think carefully about your persona on the third-party app to balance your brand experience with the limitations of your host. Here are some questions to consider:
Do your in-house product and the third-party app share the same target user base?
What voice, tone, and visual language works best for the user in the new context?
What's convenient in a messaging app interface compared to a web or native app interface?
Make sure personalized content feels friendly and conversational
Target content to your desired user rather than sending general content that might not apply to everyone. The more niche and targeted you get, the more likely your user will interact and engage with the content. Sure, there's a risk you may not reach as many users all at once. But in time, quality content will attract more people
Here are a few ways we tailored our content:
For active job seekers, we sent them job content to help in their job search.
For users in specific locations, we recommended popular jobs based on location. For example, our design recommended factory-related work to people living in rural locations more often than those in urban areas.
For users looking for a specific type of job, we recommended other related jobs they hadn't seen yet.
Be sensitive about the frequency and timing of alerts
One of the privileges of third-party messaging is higher visibility, which allows you to send reminders that users notice. But be wary of contacting your users too much. Imagine yourself as the user. You're probably more motivated to keep a relationship with a friend who cares for you when you need it instead of one who just chatters all the time.
Consider when and how often you contact people through third-party apps. Figure out not only when users are most active and what frequency best engages them, but also the frequency that makes passive users unfollow your account. Striking a balance may be difficult, but A/B testing can make your decision more clear.
Apply learnings between applications
Different third-party apps have different limitations. But our team found we could take learnings from integrating on one messaging platform and improve our process to integrate with another app. Varying results can be frustrating at times, but remember that separate experiences can often inform each other.
The best learning is practice
The UX of a third-party integration is newer than designing for the web and native apps. The limitations are plenty, but it's necessary to keep up with the rapidly changing relationships between users and companies.
If you're thinking about taking on a third-party integration project, I recommend starting by learning what your peers are doing. Once you've done your user research and competitor analysis, it is time to get to work!
But remember: While you can learn from other people's experiences, no two projects are the same. You won't be able to find all the challenges and obstacles until you actually do the work yourself. When our team started out, none of us had any experience. We struggled to find the most effective way to move forward. However, by making mistakes and trying again, we slowly grew our confidence and skill. In the end, we not only have a scalable product, but we can also share our experiences to help others prepare for similar challenges.
If you find your way back here after your third-party integration project, join the conversation by sharing what you learned with Indeed Design on LinkedIn.