For their new book, Journeys in Natural Dyeing, Kristine Vejar and Adrienne Rodriguez lived out a fantasy. Over the course of three years, the couple traveled to Iceland, Japan, Mexico, and Indonesia, meeting other craftspeople and going deep into the world of traditional natural dyes.
Part travelogue, part how-to guide, the book offers a detailed look at dyeing techniques from around the world. In Japan, Vejar and Rodriguez learn to extract color from unripe persimmons. Later, on the coast of Oaxaca, they spend an afternoon at the beach watching a local artisan hop from rock to rock in search of a sea snail, the source of a deep purple dye. The book is rich with stories of the people who practice these traditional crafts, followed up with detailed DIY projects that adapt the materials and techniques for the rest of us.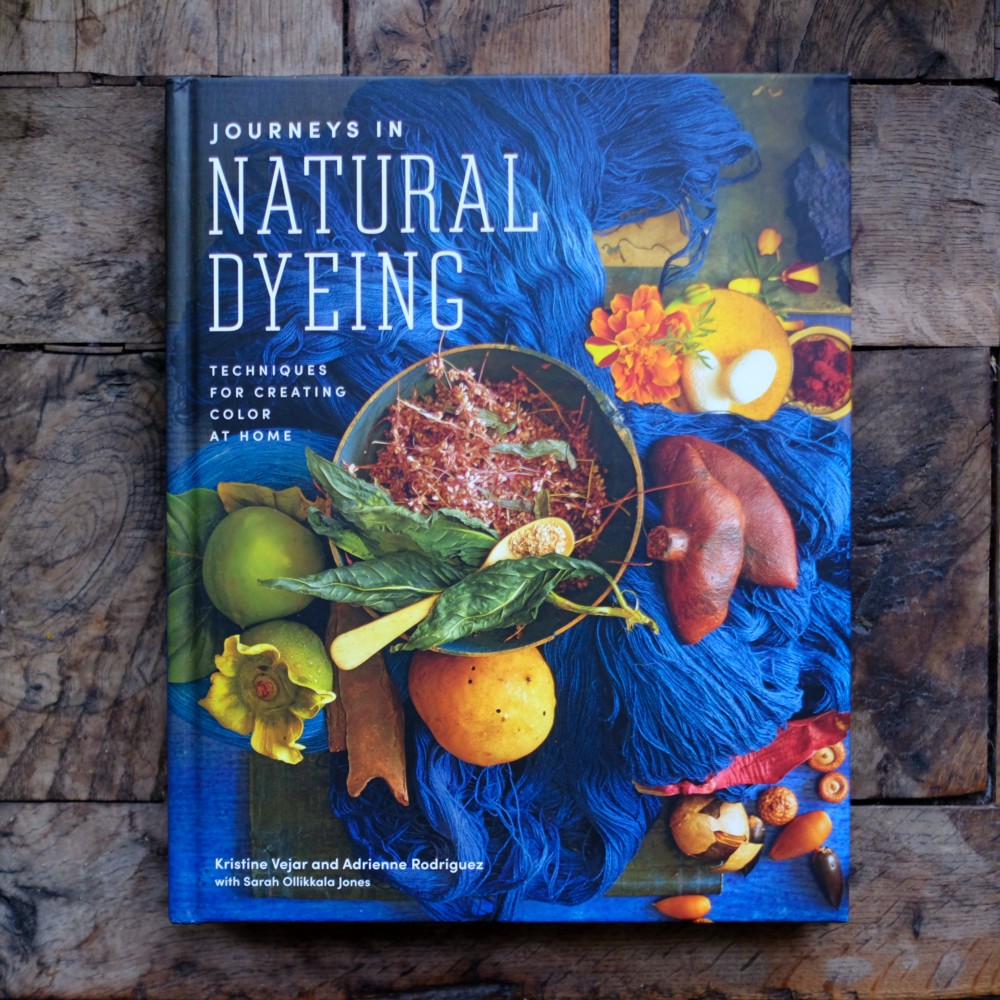 But the couple's work with natural dye is just a small part of what they do. They're writers, gardeners, professional speakers, and workshop leaders. Vejar designs sewing patterns. Rodriguez is a carpenter. They operate one of the only natural dye studios in the US. And in their spare time, they run A Verb for Keeping Warm, a popular yarn and fabric store in Oakland, California.
If their shop was a restaurant, the menu would boast of its local, organic ingredients and the two women would be celebrity chefs. But instead of heirloom tomatoes and grassfed beef, they work with wool from sheep that graze 90 miles away and pesticide-free cotton grown in New Mexico. In their dye studio, they stain those fibers in brilliant, natural hues with kitchen scraps like onions skins and pomegranate rinds, mushrooms collected in nearby hills, and indigo that they grow in their front yard.
How did you get started working with natural dyes?
KV: I learned to sew and knit when I was a kid and rediscovered those skills when I was 21 and studying textiles in India on a Fulbright Scholarship. I met women there who recorded their history with textiles instead of with written words. That's when I discovered how much I love to talk to people about textiles, and became interested in how materials like cloth are used to tell stories. India is also where I learned about natural dyeing. When I got back to Oakland, I started working with dyes in my kitchen and produced a small line of naturally dyed yarn.
How did you make the leap from craftspeople to business owners?
KV: We grew our business slowly. We kept things simple and small and never got ahead of ourselves financially. We put the money we made back into the shop and we've been able to make it stand on its own so the foundation is stronger. Our motto is Keep Going. Don't stop until you're satisfied.
Turning a hobby into a business is a big step. You have to embrace the entrepreneurial aspect of a creative life. Anyone can do it, but business leadership is very important. It's an important skill to cultivate and there has to be a part of you that's interested in doing that.
AR: I was working at SFMOMA, but my career there was limited because I don't have a graduate degree. So I quit my job to work with Kristine. I grew up in a family-run business, so it felt very doable to me. It's a huge perk to be able to work together and work in Oakland, where we live. The fact that we can travel together is special and magical. We're both drawn to people and hearing their stories. We share a common interest in being curious and inspired.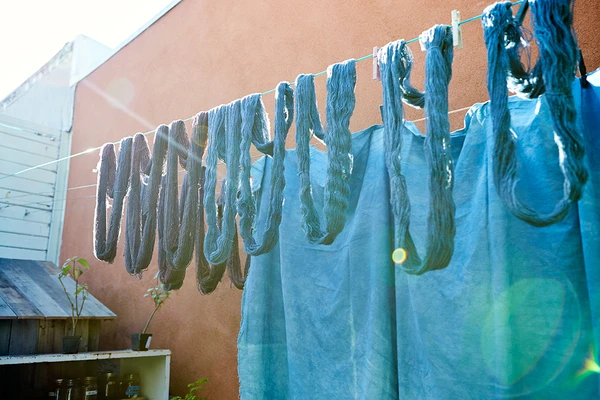 Have you had to make sacrifices to live your life as artists?
KV: Financial stability feels like the biggest sacrifice. We have an incredible quality of life but we don't have stability. It's frustrating because we're intelligent, hardworking, passionate people but we don't enjoy the kind of financial rewards for our expertise that we would if we worked in a different industry.
AR: Running the store is like having a child. As small business owners, we're on the clock 24/7. We're called to care for the people in the building as well as the building itself. It's a commitment I didn't see in full at the beginning. We love providing space and being with people, but the liability is intense. The Bay Area is such an expensive place to live and prices continue to surge. It's a struggle to pay our employees enough to live here. But the store has taught us so much and makes it possible for us to continue our work with natural dyes.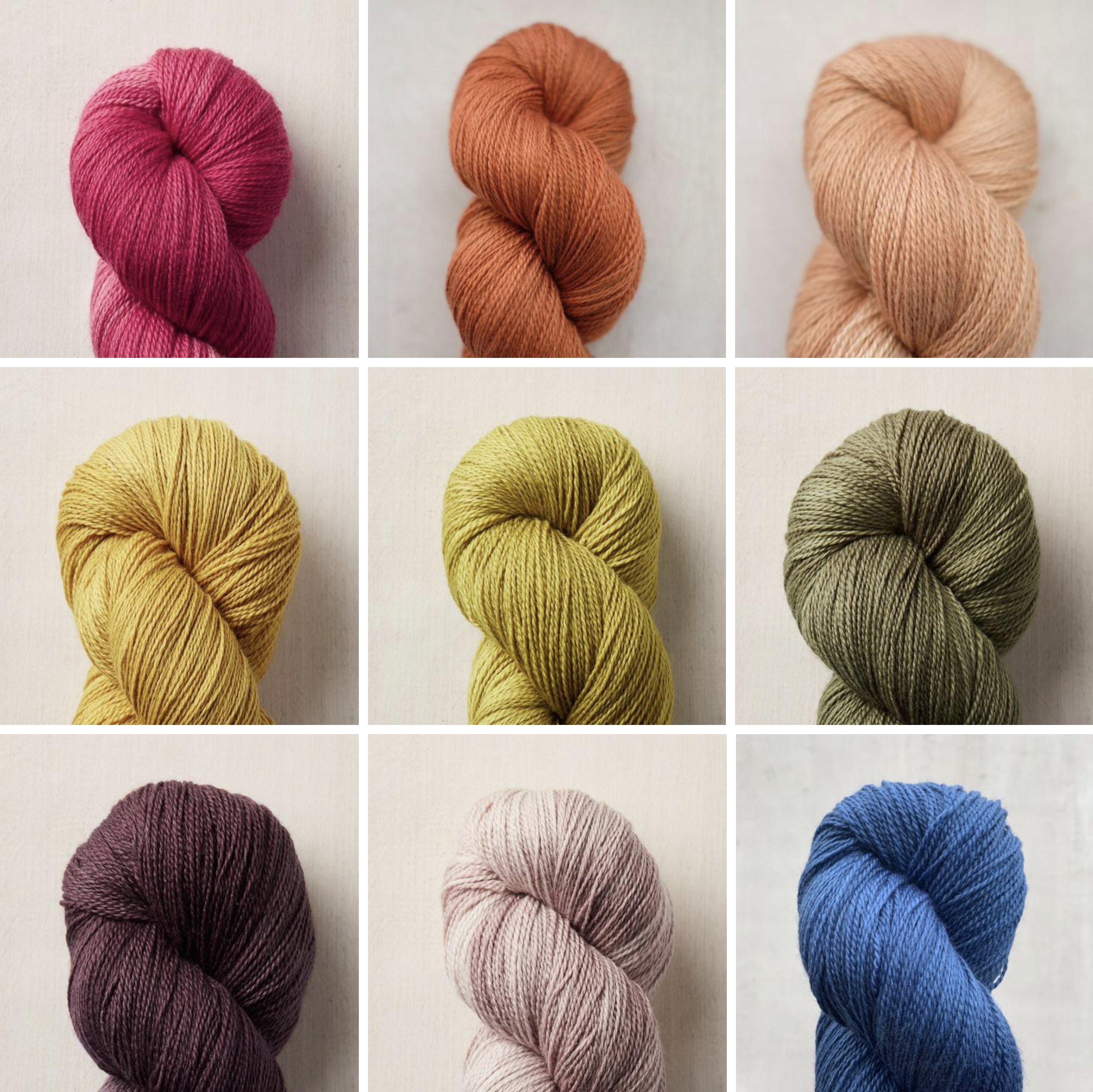 What shifts have occurred in your work? Have there been any distinct experiences that have steered your work in new or significant directions?
KV: The first was my trip to India where I learned about natural dyeing. I was awed by the idea of making color from nature. Things shifted again when we opened the store and became business owners. Then, in 2013, we released our first line of 100 percent organic yarn and launched the California Wool Project, a collaboration between sheep ranchers, shearers, and designers to manufacture locally produced yarn. Currently, the store carries four custom yarns made from California wool.
Two years later, we began working with local farmers to grow dye plants and were able to produce 2,500 pounds of organic indigo. That was a big step to becoming a more locally focused, sustainable business.
The pandemic has given us another opportunity to rethink what we want to do. We've sold down most of the inventory and are working on only offering products that are integral to our vision. There are lots of other places to buy yarn and fabric and that's a good thing. We'll always host public events but we're going to focus on the organic, sustainable fibers that are the core of our business.
Where do you find inspiration?
KV: Nature is the biggest inspiration for what we do. Forests, oceans, glaciers, deserts — all of it comes into play in our work. When Adrienne learned to identity mushrooms, we got to know the forest better. That relationship we have to nature makes us feel more committed to preserving it.
What do you hope for people take away from your work?
KV: We want people to know that when they buy locally grown fiber, they're making a serious contribution to a livelihood that's at risk of being lost. These small steps act as a point of resistance to mass consumerism and the inherently destructive nature of capitalism. We want people to understand that when they work with natural dyes or knit with local wool they're making a positive contribution to the planet.