The UX job market has been in flux for years in the US, but what about other global job markets? I looked into years of Indeed data. Here's what I found.
The data from Canada, Ireland, the United Kingdom, and Australia depict three different stories:
The Canadian tech hiring market mirrored the US tech industry, with a large increase in open roles in 2021 and early 2022 and then a fall that brought hiring down to pre-pandemic hiring levels. As in the US, UX research has defied the trend and continued to gain ground.

Tech hiring appears to be declining overall in Ireland and the UK, compared to pre-pandemic levels, despite a surge in 2021 and 2022.

Demand for software and product roles has held up somewhat in Australia, but hiring for UX roles has dipped below pre-pandemic levels.
Let's take a closer look.
Canada's market mirrors the US
Since 2018, Canada's tech job market  has followed a similar path as the US tech job market. Notably, UX research roles spiked in 2021 and 2022, then fell in 2023 while remaining elevated compared to counterpart disciplines. Software engineering, product management, and UX design all grew and fell as they did in the US.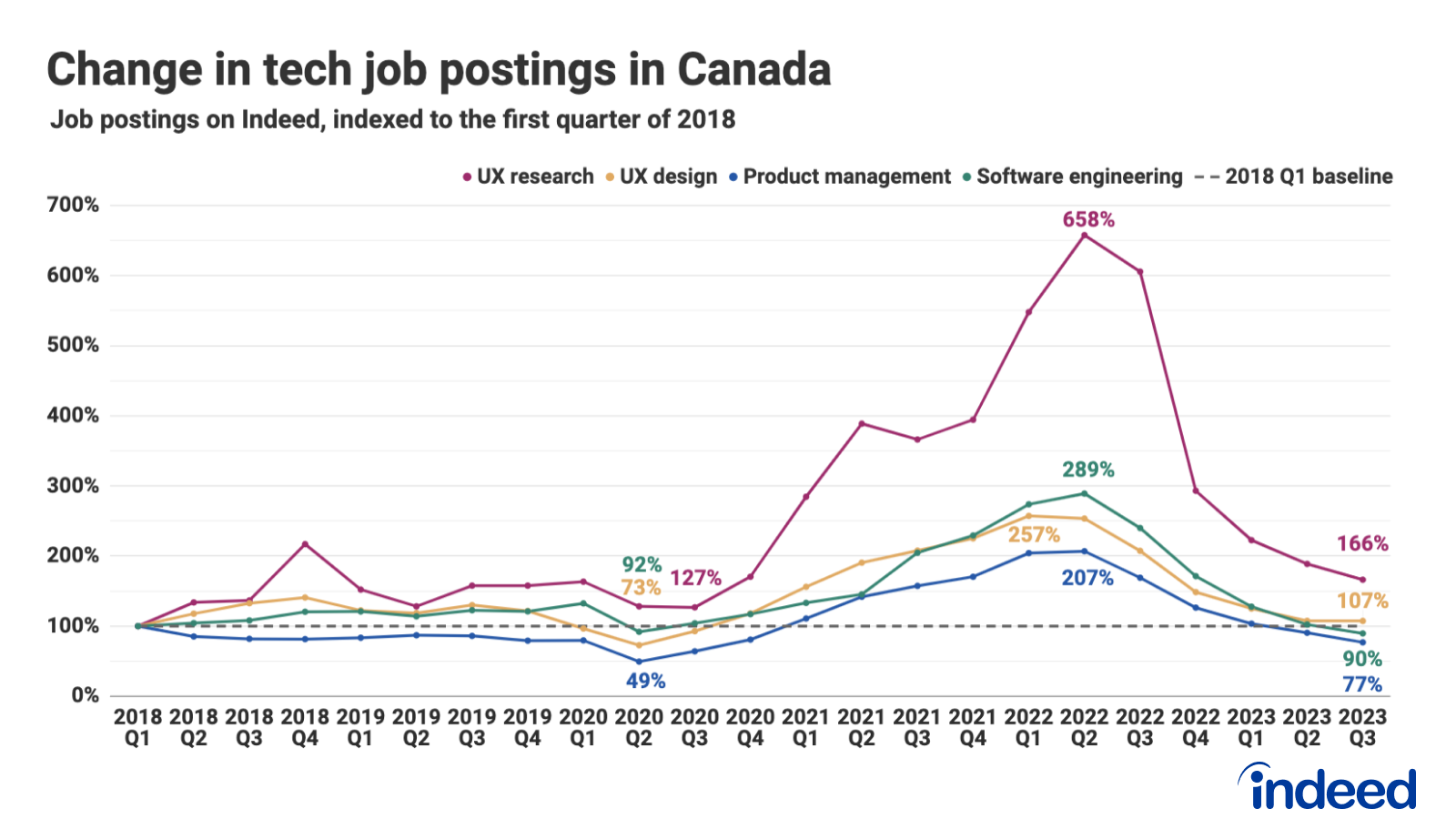 Open roles keep declining in Ireland and the UK 
The data tell a different story for the UK and Ireland. Role openings had already been on the decline prior to the COVID-19 pandemic. While there was a fury in hiring in 2021 and early 2022, all role openings crashed to levels well below their pre-pandemic baseline.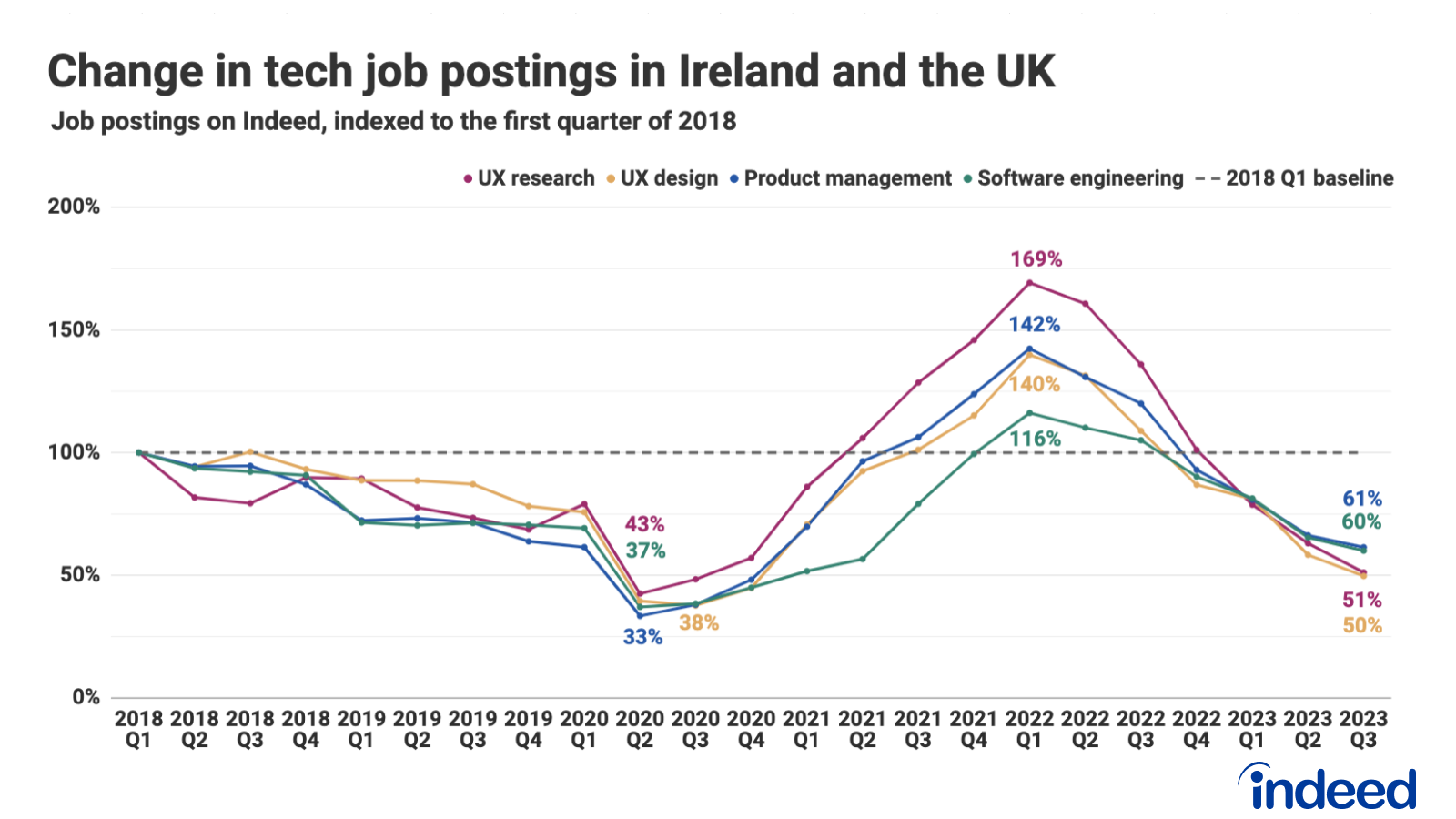 Australia may have hard work ahead
Australia paints a different picture than the rest. The tech hiring boom that other countries experienced boosted software engineering and product management the most — fields that, admittedly, have many more workers. UX design and research roles saw sharp declines over the last four quarters. This doesn't bode well for the long-term UX job market in Australia. Those hard-won gains for the nascent industry may need to be earned again.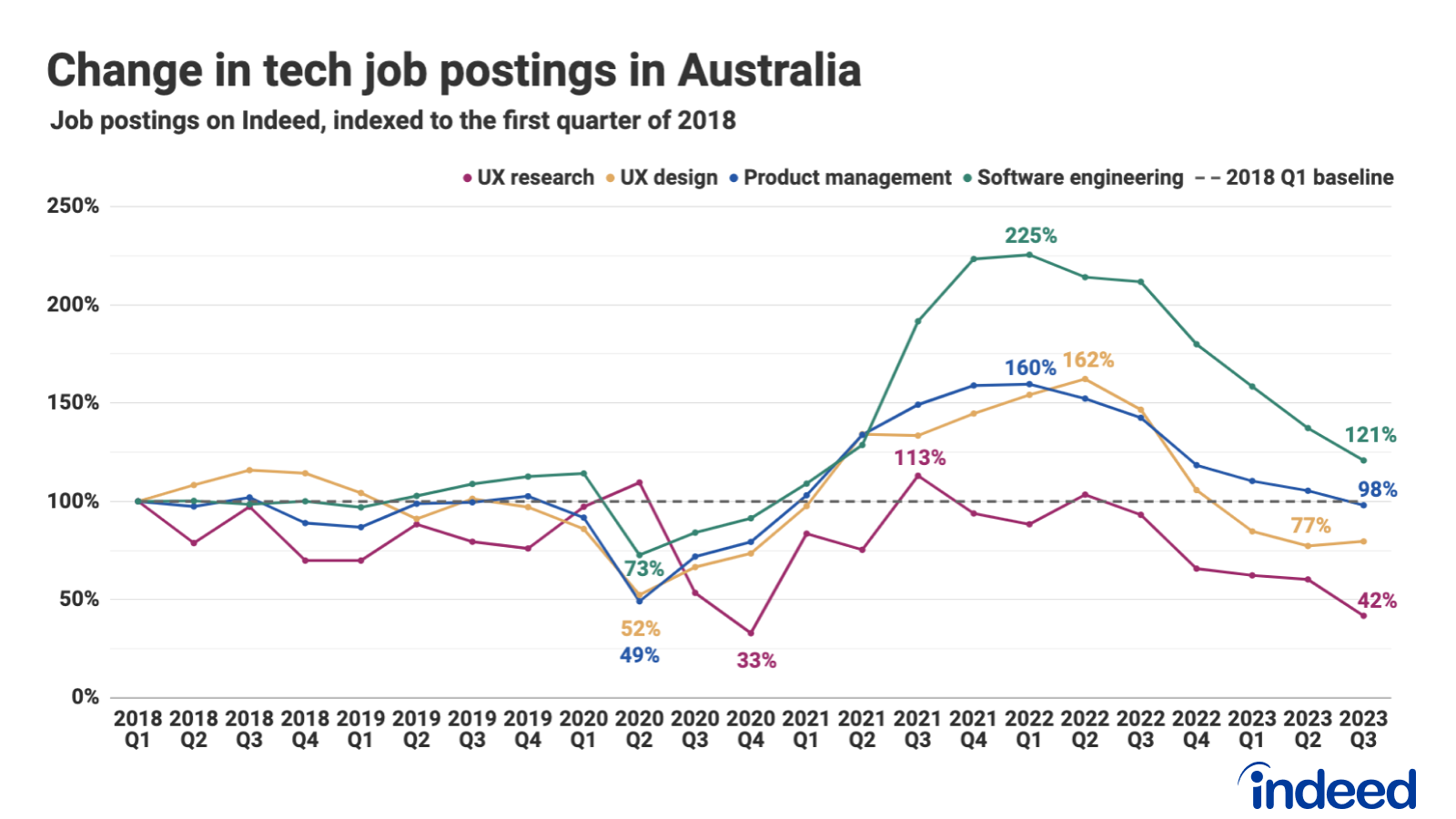 This view into data across several countries shows that North America – specifically Canada and the United States – seem to have the most resilient UX job markets, especially for UX research. Unfortunately, the same does not hold true for Australia, Ireland, and the UK; the UX markets in these countries may continue to face strong headwinds.